Hotel Guide

Ikebukuro is a subcenter where calmness as a town of education and art and liveliness as a big terminal are mixed.Our hotel has outstanding access as it is located only 150 m away from the West C6 Exit of Ikebukuro Station.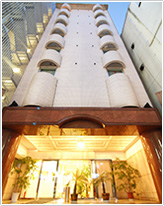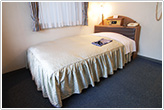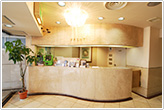 A one-minute walk/about 150 m away from the West C6 Exit of Ikebukuro Station. It is located in the downtown of Ikebukuro.

All the guest rooms are fully equipped with a high-speed Internet connection. Also, the wireless Internet connection can be used anywhere in the hotel.

Single rooms can be used until 12:00 p.m. at no extra fee and some accommodation plans can use the room until 12:00 p.m. at no extra fee.

We have many non-smoking rooms. The guests who do not smoke can comfortably stay.

In order for our guests to use our hotel at ease, our front desk will respond to matters 24 hours a day.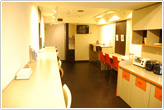 Cafeteria Space
We have a cafeteria space next to the lobby on the first floor.
In the cafeteria, light breakfast is available for free in every morning and various kinds of coffee drinks are also available for free for 24 hours a day.
Please use them when staying at our hotel.
Free Light Breakfast Service
Toast and salads are available for free for the guests staying at our hotel.
Toast is prepared with chewy bread that we stock from the bakery which has been popular locally for years.
Please try the bread that is made with great care.

Free Coffee Service
You can enjoy fresh coffee made with freshly ground coffee beans from "Café Paulista," a long-established café opened in Meiji era that wasthe birthplace of "Ginbura (Going to the café to have the Brazilian coffee)"is available for free 24 hours a day. Blended, weak, and iced coffee are available for 24 hours a day and café au lait, cappuccino, and iced café au lait are available in the morning hours.Please try the tastes that were loved by the literary legends in Meiji/Taisho eras.
Parking
The parking spaces for three cars are available. If you wish to use the parking, please make a reservation in advance by phone.
Usage fee: 1,050 yen/night (For using the parking during the day, 1,050 yen will be separately charged)
Vending Machines
Cold beverages, alcoholic drinks, prepaid card for pay broadcasting, and international telephone card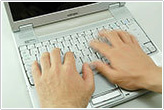 High-Speed Internet Connection
Not only the wired LAN but also the wireless LAN can be used in all the guest rooms. LAN cables and wireless LAN cards are available for rent at the front desk.If you need them, please let us know (they are in limited supply, so please make an application early).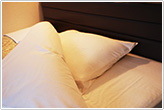 Bedding to Support a Good Sleep
o support our guests' good sleep and cure their fatigue of the day, all the single rooms are fully equipped with a three-quarter bed (width: 120 cm) and "Tempurr® Comfort Pillow," a low rebounding pillow made by Tempur.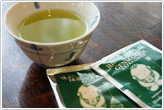 Brown Rice Tea from a Long-Established Shop "Shirakata Denshiro Shoten"
We inherit the will of the founder of our hotel who loved tea and brown rice tea with green tea powder from the best place Shizuoka that would be rare to taste in other places is available in all rooms. The taste of green tea spreads in the aroma of roasted brown rice, please relax in your room and enjoy the brown rice tea from Shirakata Denshiro Shoten, a long-established shop opened in 1916.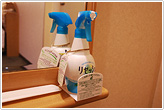 Regular Accommodation/Amenity
High-definition TV/Satellite broadcasting/CS broadcasting (fee: 1,000 yen/day)/Telephone/Plug-in phone jackTea server/Refrigerator (empty)/Hair dryer/Desk lamp/Bidet toilet/Body soap Shampoo/Conditioner/Toothbrush set/Razor/Towel/Bath towel/Bathrobe/Slippers/Deodorizing spray (Resesh)
Rental Equipment
Trouser press (free)/Iron (free)/Humidifier (free)/Oil heater (free)/Rental PC (1,000 yen/day)*If you need any of them, please let us know at the front desk (they are in limited supply, so please make an application early).